Apple and Tim Cook pay tribute to Steve Jobs on the anniversary of his death
28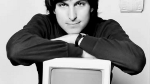 It's hard to believe that
a year has passed since Apple co-founder and CEO Steve Jobs passed away
. His successor paid tribute to him on the Apple.com web site with a sincere, heart-felt letter that said Apple was one of the
greatest gifts
that Jobs had given the world. Apple's current CEO, Tim Cook, went on to say that "
delivering products that our customers love and dreaming up new ones that will delight them down the road,
" is a tribute to the memory of Steve Jobs.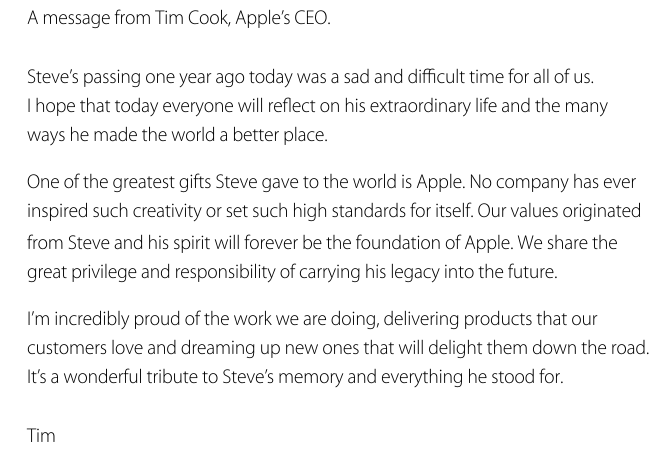 Message from Apple CEO Tim Cook paying tribute to Steve Jobs
While Steve Jobs is gone, he lives on in a couple of upcoming movies. One, called "JOBS"
stars Ashton Kutcher as the iconic executive
and covers his life from 1971 to 2000. During that time period, Jobs met Steve Wozniak, the pair started Apple and the PC era began. This film will not cover the years during which Apple released the Apple iPod, the Apple iPhone and the Apple iPad.
The more recent period of success that Steve Jobs had in life will be included in a
second movie written by Adam Sorkin
who is known for penning "The West Wing" for television and "The Social Network" for the big screen. Two ER alumni, George Clooney and Noah Wyle are said to be up for the role. Wyle has already played Jobs int television movie "Pirates of Silicon Valley." This film is expected to cover the the years during which Apple released the Apple iPhone and continue through the release of the Apple iPad and through the death of the executive.
In addition to the tribute letter written by Tim Cook, a video was also put up on Apple's web site which you can view below (you might need to be patient while it loads!)
source:
Apple