Photos of Ashton Kutcher playing Steve Jobs
28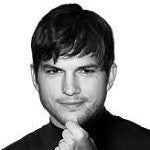 When you think about the character "Kelso" from the TV sitcom "That 70s Show," it makes it difficult to see actor Ashton Kutcher play other roles on TV or film. That seems to be source of consternation with many people wondering how Kutcher will perform, playing the role of Steve Jobs in the upcoming indie film,
"jOBS." Taking that issue aside for a moment, it is pretty clear that Kutcher is able to look the part. The pictures of Kutcher appear to capture Jobs during what was the 1990s, or Jobs in his 40s.
"jOBS" is expected to cover Steve Jobs' life from 1971 to 2000, which would encompass the time when he first met Steve Wozniak, his expulsion from Apple in the mid-80s, his eventual return in the mid-90s when Apple bought Jobs' company, NeXT for $427-million, and culminating when he officially became permanent Chairman and CEO of Apple again in 2000.
Will Kutcher pull it off? Will his ability to capture the image the Steve Jobs translate to him being able to express the essence that was Steve Jobs?
sources:
X17Online.com
via
Redmond Pie