Apple ammends lawsuit against Motorola to include 12 more patent violations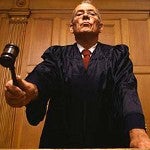 Besides the original 12 patent infringements that Apple is claiming that Motorola infringed upon, the former now has amended its claim to add another 12 patents. Apple sought a declaratory judgment on the newly added dozen back in October, and has just decided to have these new issues decided at trial along with the original 12.
Each side has hurled suits at each other. While Apple now has the newly expanded 24 claims against it's rival,
Motorola has accused Apple
of selling products that infringe on 18 of the Schaumburg based firm's patents. Most of the fighting is related to patents used in the production of smartphones. Of the two dozen claims Apple is making against Motorola, 21 have to do with smartphones while the remainder deal with set-top boxes and DVR machines.
Will either case end up being adjudicated in court or will both sides take a deep breath and hash things out in meetings? Don't expect these cases to be resolved quickly, either. Not only are they complex (which argues against going to a jury trial), but once you have a large number of lawyers involved, things tend to slow down.
source:
AllThingsDigital