Apple Watch to be big seller this holiday shopping season say analysts
8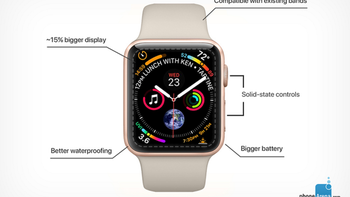 With the holiday shopping season closer than you might think, several analysts say that the
Apple Watch
will be be found in many a gift wrapped box during the fourth quarter of the year. According to the guys at Cascend Securities, 10 million Apple Watches will be rung up from October through the end of December. For the 2018 calendar year, this firm expects Apple to sell $9 billion worth of Apple Watches.
Jaime Ward, group head of Citizens Bank's retail finance group, expects the Apple Watch to take holiday sales away from jewelry. The analyst says, "By charging more for these essential tech products, it's taking share of wallet from other discretionary items. Jewelry will unfortunately be hurt by that." Of course, most jewelry stores disagree. Signet Jewelers, parent company to stores like Zales, Kay Jewelers, and Jared says, "While latest-fad technology gifts certainly have appeal, jewelry is timeless and appropriate for so many occasions, certainly beyond the holidays. We are confident that consumers will find jewelry as the perfect gift to celebrate life and express love for family and friends this holiday season." The last word on this goes to Daniel Bachman, Deloitte's U.S. economic forecaster. Bachman says, "The cool item to get under the Christmas tree is an Apple Watch, not necessarily a watch from the local jewelry store."
Last year, Apple said that its smartwatch was the top selling watch in the world, including both smartwatches and traditional watches. The
Apple Watch Series 4
just launched this month with the GPS model starting at $399; the stand alone GPS + Cellular variant starts at $499. The newest model carries a larger
edge
-to-edge screen and can perform an electrocardiogram, alerting wearers to abnormal heart rhythms. In fact, Apple has been successful at pushing the Apple Watch as a health tool. The heart rate monitor on the device has saved several lives, another reason for some consumers to gift the Apple Watch to people that they care about.