Apple Watch Series 3 requires an iPhone 6 or later for setup; battery gets 1 hour of talk time
30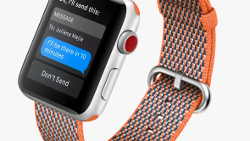 Apple announced yesterday that unlike previous versions of the Apple Watch, the new Series 3 model does not need to be paired to a nearby iPhone for internet access, or to make/take phone calls. But it still requires an iPhone to configure the timepiece. And while the Series 1 Apple Watch can still use the
Apple iPhone 5s
and up to communicate with and to set up the device, the new Series 3 watch requires an
Apple iPhone 6
or higher for the configuration and set up of the timepiece. The phone must have iOS 11, or higher, installed.
This means that if you are moving up from a Series 1 Apple Watch to a Series 3 model, you are going to need to get your hands on an iPhone 6 or higher in order to set up your new watch. That iPhone 5s you've been using will no longer cut it. You should note that this is true regardless of whether you own the cellular enabled version of the Apple Watch Series 3, or the non-cellular Series 3 model.
While that might not be earth shattering news for many, this news might be. The battery inside the Apple Watch Series 3 will provide only one hour of talk time when connected to LTE, according to Apple. If the phone is paired with an iPhone 6 or higher, talk time triples to 3 hours. Overall, Apple says that the Series 3 Watch will last 18 hours with mixed usage.
The Apple Watch Series 3 can be pre-ordered starting this Friday, September 15th. The product will be released on September 22nd.

Apple Watch Series 3 needs an iPhone 6 or older for configuration and set up
source:
Apple
via
CNBC