Siri hints that it could score a brand new voice at Apple WWDC '18
12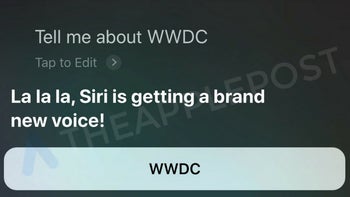 A new rumor claims that Apple's Siri is about to score a new voice at the upcoming WWDC developer summit in less than two weeks' time. The origin of this rumor is... none other than Siri herself.
When asked about the anticipated WWDC, Siri drops the rather nonchalant "La la la, Siri is getting a brand new voice!". The most logical thing to assume here is that Apple could be closely following Google's footsteps and further broaden the amount of available voices for its smart assistant. Currently, Siri boasts a modest selection of voices and accents - you can have the assistant speak in American, Australian, or British accent, all available in both male and female genders. As a reminder, El Goog unveiled six new voices for its Google Assistant, including one lent from popular singer and songwriter John Legend.
Another hint that Siri could potentially drop when asked about WWDC '18 is that it could be also getting a "shiny new home! Well, not really shiny, more meshy and matte…," which is a giveaway about a possible cheaper HomePod smart speaker. Lo and behold, that's exactly the kind of hardware we expect Cupertinians to showcase as rumors about a more affordable, Beats-branded gadget of the type have been hitting the blogosphere for a while now.
Hopefully, a new voice and another smart home speaker would be merely two of the improvements that Apple will introduce. Even devoted fans of Apple will find it hard to reject the notion that Siri has been greatly lagging behind competitors Google Assistant and Amazon Alexa for years now. While it was among the very first smart assistant to grace a smartphone back in 2011, Apple let others get way ahead in terms of features and capabilities, leaving Siri in the gutter. Hopefully, it will receive the necessary "smarts" upgrade sooner than later.