Apple Store opens in Reno, Nevada after relocating; new Apple store 2.0 design is open and airy
20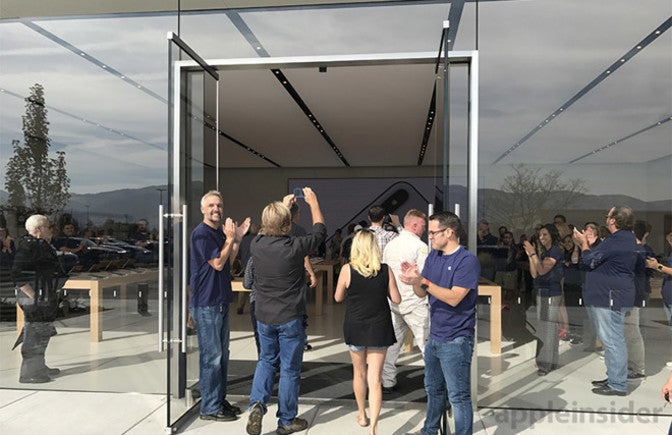 Relocated Apple Store opens its doors yesterday in Reno, Nevada
You might remember a very old
BlackBerry Storm
commercial from 2008 that focused on the SurePress clickable keyboard that was supposed to make typing on the phone's glass display more accurate. While the Storm user on screen was typing out the name of a city, the off-screen announcer was saying, "And lookee here...it's typing Reno, Nevada instead of Rino Fertada or Emo Pinata."
We bring that up because yesterday, Apple opened up its newest Apple Store in Reno, Nevada. Note that the store was not opened in Rino Fertada or even Emo Pinata. The new store opened in the Summit Reno Mall, and replaces a smaller store that had been open in the same mall. The larger retail location uses the Apple store 2.0 redesign that sports a wide open sales floor, a ceiling to floor television display, and custom wood-made furniture that is used to display Apple products. On the television screen, images of the recently unveiled
Apple iPhone X
,
Apple iPhone 8
,
Apple iPhone 8 Plus
and Apple Watch Series 3 were shown in a repeating cycle.
The top Apple executive in charge of the company's retail stores, Angela Ahrendts, has redesigned the stores to make it easier for both new users and those familiar with Apple's products to experience and experiment with the devices that are on display. Stores, called
town squares
by Apple, offer lessons on how to use your Apple devices to master subjects like photography, music, drawing and others. On Saturday, the "Today at Apple" sessions at Reno included a photo walk with the iPhone. Future lessons will give consumers tips on using Apple hardware and software. Special sessions to be held on Tuesdays will show teachers how best to use Apple's devices in the classroom.
The new Reno location is open Monday through Saturday 10:00 a.m. to 9:00 p.m., and 11:00 a.m. to 6:00 p.m. on Sunday. On Friday, September 22nd, the launch date for the Apple iPhone 8 and Apple iPhone 8 Plus, store hours will be 8 a.m. to 9:00 p.m. If you were wondering, these will probably also be the hours that your local Apple Store will be keeping on the September 22nd launch date. Just to be sure, you might want to give your local Apple Store a call just to be sure.
source:
AppleInsider