Apple, Samsung, Google, HTC, Microsoft and others agree to voluntary anti-theft tool for smartphones
10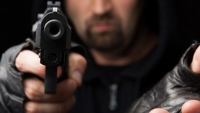 While it might not be the mandatory "Kill Switch" that
many law enforcement officials and Capitol Hill have asked for
, many of the big players in the U.S. mobile industry have come together to address the issue of smartphone theft. According to a voluntary policy initiative that has the backing of the CTIA, a number of manufacturers and carriers have agreed to support the inclusion of an anti-theft tool on new smartphones.
On Tuesday, Apple and Samsung joined with other companies like Google, HTC, Huawei, Microsoft, Motorola, Nokia, Verizon, AT&T, T-Mobile, and Sprint. All of these firms have agreed to add an anti-theft tool to the phones they manufacture or sell to the U.S. public, starting in July 2015. The hope is that by allowing stolen phones to be remotely shut down, it will remove the incentive for thieves to steal them. Criminals profit from smartphone thefts by obtaining personal information, including financial passwords and PIN numbers, from the phone. In addition, a stolen smartphone could be sold in the black market. The anti-theft tool is expected to prevent both of these from happening.
According to the CTIA, the tool will allow users to remotely wipe their device in the event it is lost or stolen. Data that will be wiped include personal information that is added after the purchase of the phone. The tool will also allow the user to remotely make the phone impossible to use without a PIN or password, except for emergency 911 calls. Along these lines, a locked down phone could be set not to reactivate without the user's authorization. If the lost or stolen smartphone is recovered by the authorized user, personal data can be restored from the cloud.
The anti-theft tool will come out of the box on new phones sold starting in July 2015, or will be downloaded on these devices. In addition, the mobile carriers who agreed to participate, will allow customers to obtain this anti-theft tool and use it on phones purchased from them. Many believed that the manufacturers would never agree to such a tool because it might cost them some replacement sales. And it was also believed that the carriers would not agree to a "Kill Switch" since it might cost them the revenue from selling premium smartphone insurance, which covers stolen handsets. But both have come together to agree to this very important initiative, which could save the lives of some of their customers.
Not everyone was excited with the voluntary plan. California state Sen. Mark Leno, who has a mandatory "Kill Switch" bill proposed in Congress, says that by making the anti-theft tool voluntary, the plan announced on Tuesday "
misses the mark if the ultimate goal is to combat street crime and violent thefts involving smartphones and tablets
."
source:
CTIA
,
Recode
via
Engadget