Get the Apple HomePod for $50 off from Costco
8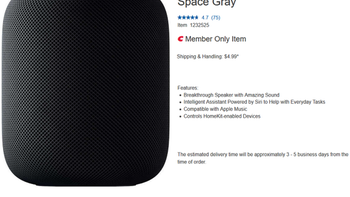 In the U.S., Apple's HomePod smart speaker is trying hard to gain traction. Technically, in the U.S. it is the third horse in a two-horse race between category creator Amazon, and Google. One of the reasons is that Apple came late to the dance,
with the device launching in February instead of last December
when it might have grabbed some holiday sales. Another issue is the price. At $349, the HomePod is a premium priced device. The final issue is Siri. As Google Assistant and Alexa battle for supremacy among virtual digital helpers, Siri struggles to keep up with the pair.
If you won't buy a HomePod for $349, would you buy one for $299? Warehouse membership club Costco has Apple's smart speaker in Space Gray on sale for $50 off (a 14% discount) through the end of this month. There are some caveats. You have to be a Costco member to get the discount. And you must pay $4.99 for shipping and handling. You can save that last fee if your local Costco has the HomePod in stock, so you might want to make that phone call to find out.
The creation of the HomePod reminds us of an NFL powerhouse that is losing to the New York Giants because in two weeks they are playing the Rams. Sure, the HomePod has some attractive features, including the ability to adjust the sound based on the room it is placed in. It just might be that Apple is so focused on Apple Glasses that it didn't really put enough thought into who the typical smart speaker buyer is, and what they are willing to pay for. After all, more than half of Amazon Echo sales come from the low priced Echo Dot, while 40% of Google Home's installed base consists of the Google Home Mini.
If you're interested in buying the HomePod from Costco, visit your local store or click on the sourcelink below. We should tell you that there is a limit of four units per customer.