Another test proves Apple iPhone 6 Plus bends, other phones don't
99+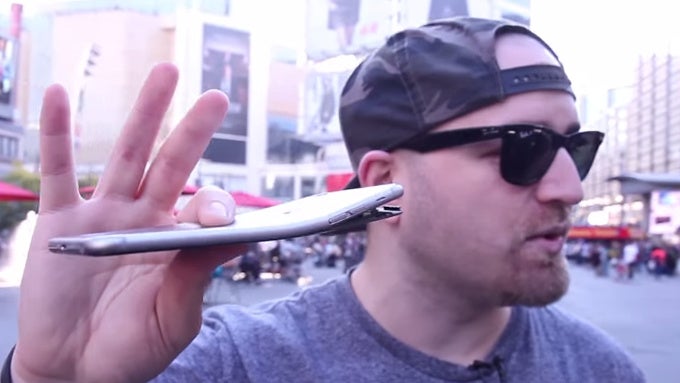 The Apple iPhone 6 Plus
bendgate scandal
broke up just a few days after the 5.5-inch phablet arrived on store shelves, and it's been the source of so much controversy since then. Starting with the 'of course it bends, it's a thin aluminum phone' reaction that dismissed the issue almost as if an expensive $750 gadget was supposed to bend in such a way, to more detailed analyses of the exact reason why the iPhone 6 Plus bends (it's the large cutouts for the volume buttons that break the geometry, and it's at those joints where the bending happens).
Now, we are seeing an uncut version that aims to put an end to all of the controversy. The iPhone 6 Plus bend test is performed out on the street with many witnesses, and it is compared to a different device (the Moto X 2014 edition).
The results are eye-opening: yes, the iPhone 6 Plus bends with a shocking ease, getting hugely deformed and practically unusable. The same and even larger amount of force applied to a different handset does not bend it at all. And with earlier tests showing how even kids are able to bend the phone easily, it seems that we have a legitimate reason to be worried about the iPhone 6 Plus durability even under regular use.
At the same time, engineers have given their reasons about why the iPhone 6 Plus could bend, and the majority agree that we should not look at the thinness of the phone and the aluminum material as the main cause, but rather the fact that the geometry of the design breaks at the point around the volume buttons. These new elongated volume keys in the iPhone 6 Plus break the uniformity of the design, and coincidentally, all the bending issues happen around that point. A possible explanation for the difference between the results of different bend tests is exactly where they try to bend, and whether they test at that exact critical bending point or slightly off of - that is something that could alter the results significantly.
You can see the uncut version of this new iPhone 6 Plus bend test right below. Note that this deformation could also puts you in danger of having a warped battery and that increases the hazard of battery damage (and you know that batteries in smartphones often explode).
Will this force an adequate reaction from Apple apart from a statement about 'only 9 people' officially complaining? Time will tell.