Another press render for the Samsung Galaxy Watch Active 2 surfaces
16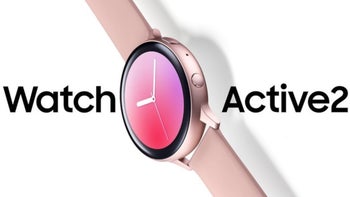 The watch is expected to be unveiled on August 7th at the next Samsung Unpacked event at Brooklyn's Barclays Center. A red ring around the power button on the device will reportedly mark the variant of the timepiece that offers 4G LTE connectivity as opposed to the version that is equipped with Wi-Fi. The battery sizes on the two models are rumored to be 340mAh and 237mAh respectively. The back button on the watch is now oval instead of round, and in the middle of the two buttons, there is a microphone on the cellular unit. The watch will be available in 40mm and 44mm sizes and could come with 1.5GB of memory and 4GB of storage. Assuming that there is no change in the screen size, we're looking at a 1.1-inch AMOLED display with a circular resolution of 360 x 360. With an IP68 rating, the wearable can be submerged in nearly 5 feet of water for as long as 30 minutes.
The back of the Galaxy Watch Active 2, where the heart rate monitor is found, has a new look. But more importantly, the device has two new features "borrowed" from the Apple Watch Series 4. One is an electrocardiogram (ECG). This looks for abnormal heart rhythms and can alert the wearer to a condition known as Atrial fibrillation (AFib). Early detection is important because AFib can lead to blood clots, strokes, heart failure, and death. It isn't clear whether the manufacturer has already received the necessary regulatory approval to offer this feature.
The watch will also have a Fall Detection feature similar to what is found on the Apple Watch. When enabled, the Galaxy Watch Active 2 can detect when a user falls. At that point, the device will vibrate and display an alert that can be dismissed. The user can also tap the screen to summon emergency help. If the user doesn't respond to the watch after a certain period of time, it will call 9-1-1 itself and send out a pre-written text to the owner's emergency contacts list.
Samsung seems to be working at double speed to get this sequel out so fast. The original model was unveiled only this past February.
Recommended Stories