Angry Birds is taken to a new level with one family's Christmas light spectacle
1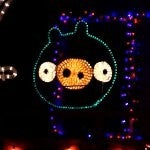 Rovio's popular
Angry Birds
has spread well beyond its acclaimed mobile game, and into various things that we wouldn't fathom – like
plush toys
and a
real-world version of the game
. And to tell you the truth, it has such an established fan base, that some people are doing some imaginative things regarding the game.
Seeing that we're well into the holiday season, with Christmas right around the corner, one family took their love for Angry Birds to a whole new level. Whereas other people might simply decorate their yard with the usual
Christmas lights and decorations
, this one specifically used the opportunity to turn theirs into an
Angry Birds themed one
.
Not only do we see the those always up to no good pigs perfectly captured in Christmas lights, but the family managed to make the entire thing pretty interactive. From the usual lights, to the sounds complementing the entire experience, it's undeniably a worthy show that stands out amongst the usual Christmas light shows out there.
Honestly, check out the video below to see how far they've gone in getting this one up! We bet the neighbors are a tab bit jealous right about now.
source:
YouTube
via
Android and Me