Angry Birds Go! said to have some in-app purchases for as much as $100
9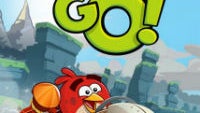 The Rovio kart racer - Angry Birds Go! - is due out in a couple weeks on December 11th, and as with the more recent Angry Birds games it will be going with the freemium route. But, some early info on the game is coming out and it sounds like there are going to be a ton of in-app purchases in the game, including some items that could cost as much as $100.
According to gamers in New Zealand, where Angry Birds Go! has gotten an early release, the game has in-app purchases galore. And, the worst part is that your racer will get "tired" after a certain number of races, forcing you to either wait to race more, or pay real cash money to give your racer more energy. On top of that, there are also locked characters and bonuses that you can get early by paying to unlock them.
Of course, there are plenty of games out there that have in-app purchases that are that expensive. Most games that offer some sort of system to speed up item gathering will have purchases on that level. For example, Tiny Death Star has a packs of bux that can be anywhere up to $99.99, and Puzzle and Dragons has packs of gems along the same cost structure. So, this isn't anything new, but that doesn't make it any less annoying.