Android update brings huge improvements to Nexus 5 camera: before and after images
37

The Nexus 5 arrived amidst sky-high expectations that Google would not only deliver top notch hardware in an extremely affordable smartphone, but also make this the first truly photographically capable Nexus smartphone. With an official tagline of "capture the moments that matter," it's clear that the camera was something Google worked on and we were pleased to learn that the company brings optical image stabilization in such an affordable package. Image quality was also surprisingly good, but there were nagging issues that spoiled the whole experience - the camera was frustratingly slow, the auto-focus roamed around and was particularly lazy, and exposures were not always spot-on.
Fast forward one month, and Google has not only recognized all these issues, but has already pushed a huge update that hugely improves the camera experience. It's hard to believe what a dramatic change it makes.
Quicker, much quicker
Google has managed to bring shooting speeds almost on par with the fastest smartphones out there and the Nexus 5 now feels snappy rather than slow. Not just that, the auto-focus now locks extremely quickly, roams less and is complemented with a very active face-tracking that helps better expose faces. Before the update, the Nexus 5 camera would easily prefer very long exposures, especially in low light, and that translated in more light getting in and above average results, but this also meant slower shooting speeds and also affected daylight camera speed.
Now, after the update, Google has recognized that the camera was just too slow and in low light it now prefers shutter speeds that are consistently three times faster or more. In our own testing, this results in a quite significant increase in speeds. While previously starting the camera app and taking a picture took 4.1 seconds, now that's reduced to a way more reasonable 3.5 seconds. Taking an HDR+ picture is also a second quicker. Those much faster shutter speeds translate in the camera bursting ISO to very high values in low light (sometimes up to 800), making noise become much more visible. This takes a bit from the very clear detail the camera captured under low light before the update. For us, it's a trade-off worth making as it fits the main idea of mobile photography that is quick and on the go, plus it will better capture moving objects (like kids!) that people often shoot on their phone. Here is how the Nexus 5 (after update) shooting speeds compare to other popular smartphones.
Colors that pop

The actual images themselves have changed as well. Colors are boosted, more saturated in some images. This is not something we necessarily like as they look a bit unreal to us now, but the logic here seems to have been that many users prefer those more "popping" overblown colors. The change is particularly noticeable in the warm tonalities that are now much more pronounced.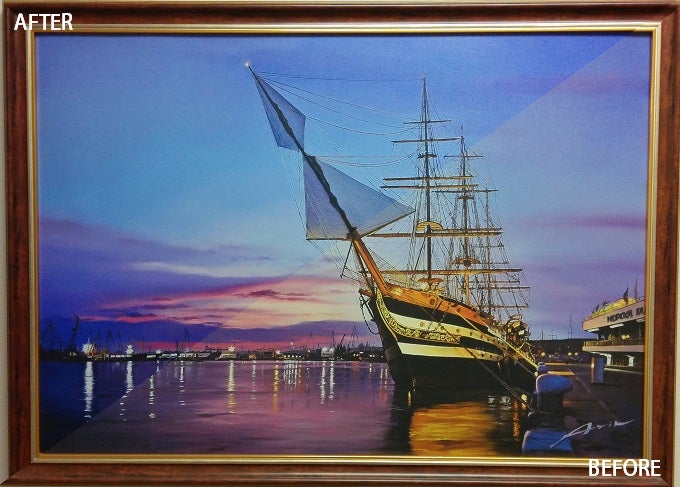 The impressive HDR+ feature has also been slightly modified. HDR+ (short for high-dynamic range) differs from most traditional HDR implementations in having a more subdued dynamics, but very sharp, no-ghosting images. This has actually not changed, but we did get slightly different results with better exposure. Also, Google has added a little progress bar that shows live how the image is being processed and saved. HDR is traditionally a bit slower (the camera takes multiple shots rather than just one), but this progress bar helps the user understand how long exactly it will take whereas earlier you could not tell.
This is just one of a series of changes that Google promises to bring to its camera interface. The move is expected to be towards more intuitive controls in contrast to settings hidden in menus right now. We are also hopeful that Google will bring more manual controls to its app like ISO adjustment settings that are now missing.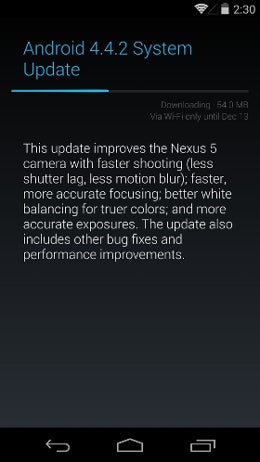 Android 4.4.2 is a 54MB update.
What has not changed and needs to change is the frustrating electronic viewinder. The Nexus 5 captures native 8-megapixel images with an aspect ratio of 4:3, but the live preview shows a 16:9 image cutting out the top and bottom of what's actually being captured. Needless to say, that's a huge annoyance and makes it hard to properly compose your shot. Using other apps remedies that, but we hope Google fixes this in the stock camera app.
Right now, our Nexus 5 has received Android 4.4.2 straight from 4.4 (it did not go through 4.4.1), and it was a 54MB update the installed in just around 15 minutes. The official description of it reads: "This update improves the Nexus 5 camera with faster shooting (less shutter lag, less motion blur); faster, more accurate focusing; better white balance for truer colors; and more accurate exposures." And that's something we definitely see in the actual camera images.
Overall, it's amazing how much Google has improved the Nexus 5 camera in a single software update. The lazy auto-focus has now become very quick, Google has added face recognition that works fast and is precise (shooting people was a problem on the pre-update Nexus 5 as it tended to overexpose faces and burn skin tone), and colors are now more saturated. Take a look at the images before and after and see the difference for yourselves.
Recommended Stories