Android to grow its hold on the market, tablet shipments said to outgrow traditional PCs in 2015
24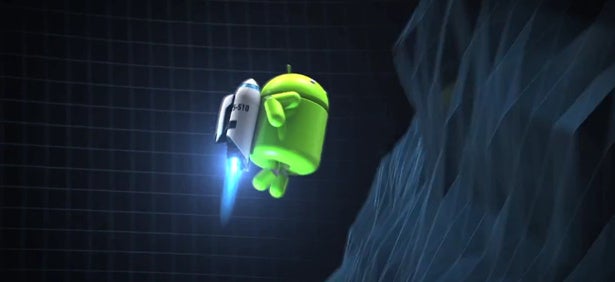 Android will extend its commanding hold of the mobile market in 2015, as the traditional PC industry continues its slow, but steady decline, according to the latest research by Gartner.
This latest forecast claims that overall shipments of traditional PCs, tablets and phones will grow to 2.4 billion units in 2014. Of all that, phones and tablets make up a huge 88%, and most of that number is attributed to devices running on Google's Android. In comparison with last year, in 2014 we're witnessing a 4.2% growth in shipments.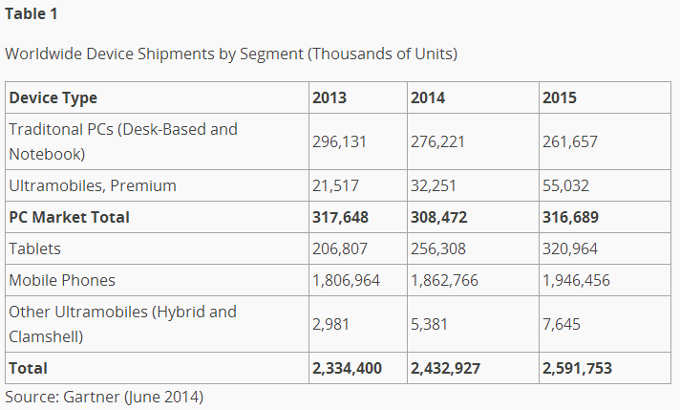 Interestingly, while Android has been the number one platform in terms of market share with no close runner-up in sight, it will even widen its lead this year with shipments of 1.168 billion devices, up from 898.9 million last year. In 2015, Gartner projects that shipments of Android gadgets will reach 1.371 billion.
Apple's iOS devices, in comparison, will have a much more modest growth: to 271.5 million in 2014, and 301.3 million next year.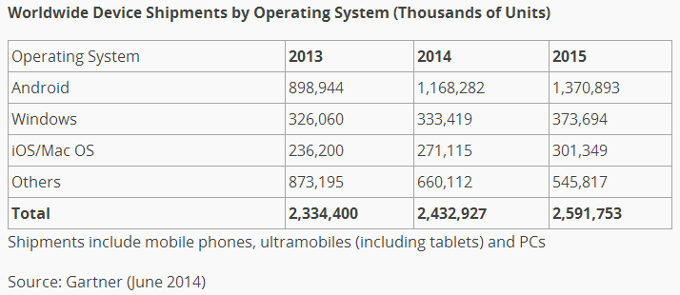 Another interesting forecast by Gartner is that tablet PCs will finally overtake traditional PC sales next year. Tablets have seen booming growth in the past few years, but projections show that it will be 2015 when they finally outpace traditional PCs: tablet sales in 2015 should grow to 320.9 million, while traditional PCs will decline to 261.6 million.
source:
Gartner
via
TechCrunch