Android owns 50.1% of U.K. smartphone market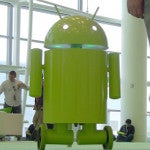 According to a new report from Kantar Worldpanel ComTech,
Android controls 50.1% of the smartphone market in the U.K.
, up from a 44.6% reading a year ago. And of those Android phones in use in the country, 86% of them are made by HTC or Samsung. That stat might rise in the near term as the HTC One series is off to a strong start and
the eagerly anticipated Samsung Galaxy S III is close to launching in the U.K.
less than 1% of Android marketshare
in the country. LG hopes to get things going in the U.K. with its launch next month of the high-end LG Optimus 4X HD. The latter
should launch in Europe next month
What about BlackBerry? In the U.K., BlackBerry still is seen as a viable player in the industry even without the anticipation of BlackBerry 10. RIM's smartphones still have a
better than 10% slice of the U.K.smartphone market
. Windows Phone is making a move in the U.K. as its share of the smartphone market in the region is now 3.3%, up from .8% last year. Symbian has seen its slice of the U.K.smartphone pie tumble to 1.6% from last year's 10.7% meaning that in the country, Nokia has bet on the right jockey.
source:
CNET