Android menu button now on by default on all device with KitKat
30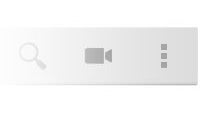 It looks like Google has decided that even if it can't get rid of physical navigation buttons on Android hardware, at the very least it can get rid of the capacitive menu button that is still in use. When Google first formalized the soft navigation buttons with Android 4.0 Ice Cream Sandwich (they had been introduced with the forgotten Honeycomb), Google created the "action overflow menu" as the substitute for a menu button.
Since then, the action overflow button has been a spot of inconsistency with Android apps, because it would show on devices with soft navigation buttons, and not show when there was a hardware menu button on the device. At least that was the aim, but depending on the app coding, there it didn't always work that way. But, with Android 4.4 KitKat, it seems that Google has changed that behavior so the action overflow button will always be on, even if there is a hardware menu button available.
Google engineer Adam Powell even went so far as to comment on the change in Git, saying:
The menu button is not pining, it's passed on! This button is no more!
It has ceased to be! It's expired and gone to meet its maker! It's a
stiff! Bereft of life, it rests in peace! If you hadn't nailed it to a
flagship device it'd be pushing up the daisies!
THIS IS AN EX-BUTTON!!
That is pretty blatant. The idea seems to be to nudge hardware manufacturers (read: Samsung) to leave behind the physical menu button, which will be redundant. Of course, Samsung really is one of the few Android hardware makers that still uses a physical menu button, along with Xiaomi. HTC still has physical buttons, but only for home and back. Motorola, LG, Sony, and Huawei have all moved to the soft navigation buttons. The change is part of KitKat, so once devices are updated the action overflow button will be here to stay.