Best new icon packs for Android (March 2018)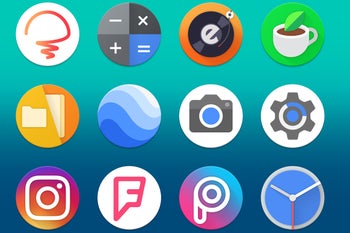 While the vast majority of Android consumers use their devices without customizing these at all, a smaller group of Android enthusiasts can hardly go for more than a week before overhauling the appearance of their homescreens. What can we say, we are guilty of that as well! Thanks to the multitude of icon packs arriving weekly on the Play Store, that's as easy as abc.
This is why we regularly show you the icon packs that have recently made their way to the Play Store and deserve your attention. Have in mind that you'd normally need a third-party launcher in order to change your stock icons with some of the beautiful suites right. Note that as a rule of thumb these are usually compatible with all third-party launchers that support icon packs, such as Nova, Apex, etc.
Here follow the best new ones that have made it to the Play Store for the month of March 2018.
Pireo
With a whole lot of 3,970 icons on board, Pireo is one of the largest Android Oreo-themed icon packs we've seen lately. Its circular theme will look good against any contemporary Oreo-themed build.
Dropcon
Love teardrops? If yes, then you should probably consider Dropcon, an icon pack that has over 3,000 teardrop icons inside, tons of cloud-based wallpapers, and an icon request tool.
Pure
We are normally partial to round icon packs, but Pure has something really appealing going on for it. Each icon is meticulously crafted to be as minimal as possible while retaining the main theme of the icon pack. Best of all, it's free for you to download and try.
Astrid is a superb minimalist theme that will fit well with both black and white themes. It's as clean as possible without sacrificing much of the informativeness that an icon should provide. There are merely 400 or so icons in this one, but if you are a lighter user and don't have much apps, Astrid should do the trick.
Mix Vintage
Although vintage icon packs certainly look anachronistic when applied on the cutting
edge
devices we use, there's a certain charisma to using such an icon pack on your device. The free-to-download-and-use Mix Vintage is a recent icon pack that plays on that nostalgic note, and it works just right.
Colorful, vibrant, and... circular, Ringo is a new icon pack that will fit well with Material Design-themed setups.