Android held record-breaking 84.6% of the market in Q2 2014, Windows Phone drops down to 2.7%
99+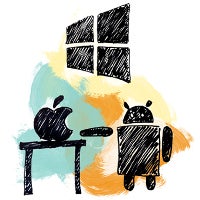 Earlier today, Strategy Analytics released its quarter report about the
current state of the smartphone market
– the big surprise was the 5th spot for Xiaomi, as its products are not even available worldwide. The report clearly reveals that Apple is the only major manufacturer which does not make use of Google's Android operating system. That said, Strategy Analytics released a second report, which treats us to a brief breakdown of the current distribution of mobile operating systems.
Unsurprisingly, Android is still king with a record-breaking 84.6% of the market, a steady year-over-year increase – back in Q2 2013, Google's OS powered 80.2% of all smartphones sold throughout the trimester. Then again, a larger number of Android devices got sold during the latest quarter (249.6 million) in comparison with "just" 186.8 million a year before.
"Like the PC market, Android is on the verge of turning smartphone platforms into a one-horse race," claimed one of Strategy Analytics' directors, Neil Mawston. "Its low-cost services and user-friendly software remain wildly attractive to hardware makers, operators and consumers worldwide."
Meanwhile, Apple's iOS can be found on 11.9% of all smartphones that got sold in Q2 2014, a small decrease compared to Q2 2013's 13.4%. However, Apple has sold slightly more devices in Q2 - 35.2 million – compared to 31.2 million in Q2 2013. Of course, this led to
higher profits
.
Microsoft's Windows Phone is not performing good at all. A year ago, it held some 3.8% of the market, but during the last quarter it has plummeted down to 2.7%, which is surely sounding a lot of alarms in Redmond. The
revamping of certain Nokia X devices to Windows Phone ones
is surely aimed at increasing Microsoft's market presence in the entry-level segment. Speaking of diminishing market shares, BlackBerry is pretty close to ground zero – with just 0.6%, the company is pretty far away from its 2013 result of
2.4
%.
| | | |
| --- | --- | --- |
| Operating system | Market share in Q2 2013 | Market share in Q2 2014 |
| Android | 80.2% | 84.6% |
| iOS | 13.4% | 11.9% |
| Windows Phone | 3.8% | 2.7% |
| Blackberry OS | 2.4% | 0.6% |
| Others | 0.2% | 0.2% |
| Total | 100% | 100% |
source:
Strategy Analytics
via
The Next Web
,
The Wall Street Journal