Android apps will outsell iOS apps this year
22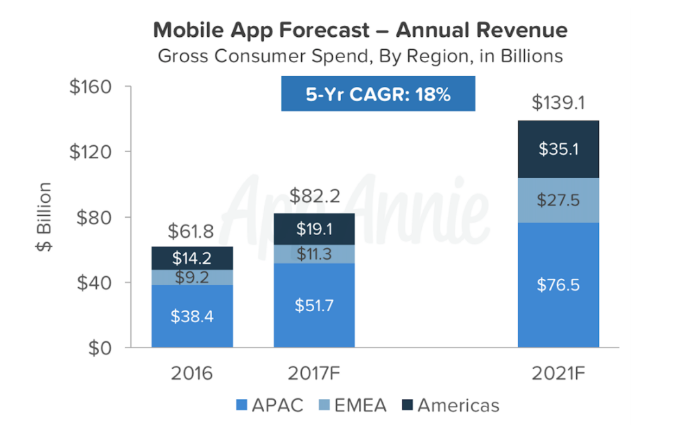 App sales should grow at an 18% compounded rate through 2021
App Annie is an analytical company that tracks various app platforms. For 2017, the analytical firm says that Android apps will outsell iOS apps for the first time ever. This includes revenue generated by third part Android app stores like the Amazon Appstore and Samsung Galaxy apps. Looking at the estimate, App Annie says that the Google Play Store will bring in $42 billion this year with third party Android stores producing an additional $36 billion in revenue. The total $78 billion in Android app revenue expected this year by App Annie, tops the $60 billion in revenue that iOS is forecast to achieve this year.
Take away the third party Android app stores, and the Apple App Store will continue to out sell the Google Play Store by $20 billion every year up through 2021. For the five-year period that ends that year, App Annie sees a compounded annual growth rate of 18% in total app sales. The Asian Pacific region is the area with the highest demand for apps, both Android and iOS flavored. That is followed by the Americas and the Europe, Middle East and Africa region.
Will Android (including third party app stores) continue to produce more revenue than iOS apps after this year? Android does have the advantage of having the largest market share globally and continues to show strong installed growth every year. One thing to consider. Regardless of which platform brings in the most revenue, when it comes to the bottom line, iOS has always produced more profits for its app developers than Android has.
source:
AppAnnie
via
Android