Android Q kills its default gesture navigation if you install a launcher like Nova
17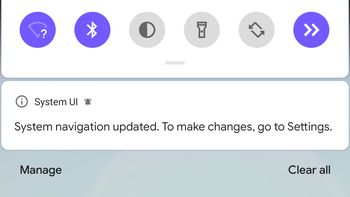 With the ever-increasing sophistication of manufacturer overlays and stock Android itself, third-party launchers that were all the rage when Android was young and silly, are now slowly going the way of the dodo bird. Or the koala lemur, or the giant bees, you catch the drift.
As if to put another nail in that coffin, Google decided to gray out its default gesture navigation option, making it unavailable if you switch to a third-party launcher in Android Q. This has been discovered by the same Charizarlslie dev who posted on
Reddit
about the new gestures that will
command Google's Assistant
come Q time for your handset.
When you install Nova or another of the popular launcher options from the Play Store, and switch to it, Android Q will issue a warning that the system's navigation has been "updated." If you peek into the navigation options afterwards, it will be showing you a greyed-out option for switching to gesture navigation, while the 2-button or 3-button options are still there.
Thus, you are left with the gestures of the third-party launcher which, for all their variety and options, won't be embedded on a system level as Android Q's gestures would be. Thus, you can expect them to be wonkier, hit-or-miss affair that may not be as smooth as the stock option. That has nearly always been the case with "acquired" navigation gestures, though, so we'd assume that Google is just trying to prevent inconsistent experience across the board.
Recommended Stories