Android 5.0.2 factory image for the cellular enabled Nexus 7 (both generations) is now here
6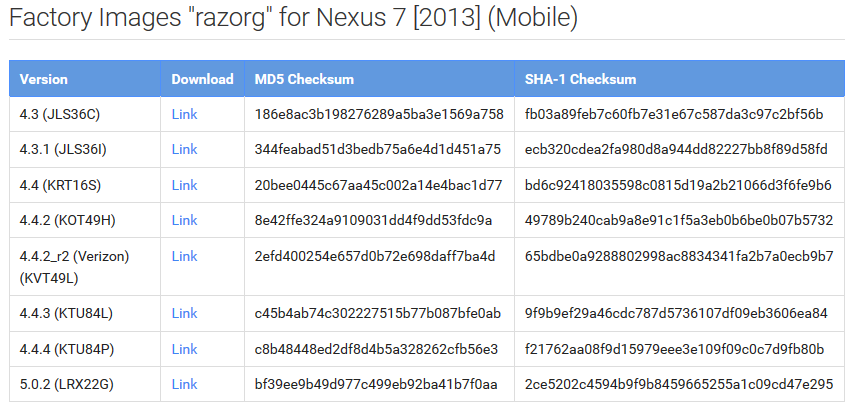 The cellular enabled versions of the Nexus 7 have both received the Android 5.0.2 factory image
Google has finally posted the Android 5.0.2 factory image for the first and second generation cellular enabled Nexus 7 tablets. Earlier this month,
the Android 5.0.2 factory image was made available
to the Wi-Fi only variant of the
Nexus 7 (2013)
. Last month, it was the original generation Wi-Fi only model that had an Android 5.0.2 factory image listed. The build number for all of the factory images is LRX22G, which is dated October 22nd.
If you're new to this Android thing and you are curious about how the factory image can be useful to you, consider it a do-over button for those who like to customize their phone. Say that you've flashed a custom ROM on your device and are tired of it. Or, you've started to flash a custom ROM and something has gone terribly wrong. In both cases, you can flash the factory image and recover the latest stock Android build.
We should point out that it doesn't appear that Android 5.0.2 is actually being distributed to the cellular enabled Nexus 7 models yet with an OTA update. And that brings us to another good use of the factory images. Sure, you could wait until Google gets around to sending out the update, but stocking the communal fridge at the Googleplex with Berry flavored Oreos might be higher on the company's 'to-do' list. If (and only if) you know what you are doing, and you are ambitious, you might want to flash the Android 5.0.2 update yourself to update your tablet. This way, you could be the first person on your block enjoying tomorrow's Super Bowl, secure in the knowledge that his cellular enabled Nexus 7 runs the latest and greatest build of Google's open source OS.
source: Google (
1
), (
2
) via
AndroidPolice