Android 5.0 Lollipop supports USB DAC audio devices, we go ears-on
25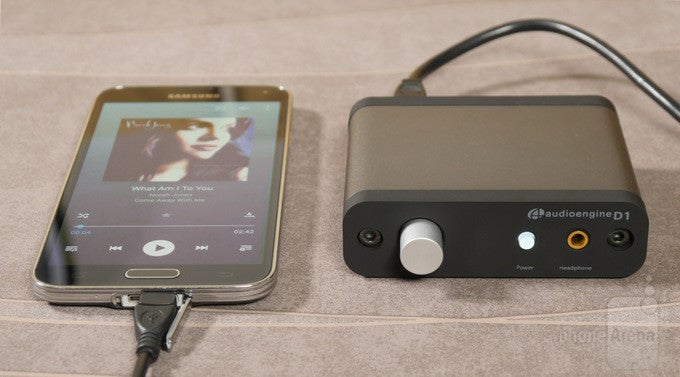 Inside each and every smartphone, there's a tiny piece of silicon dedicated to translating digital audio signals into analog ones. It is called a DAC (short for digital-to-analog converter) and it is usually embedded in the smartphone's system-on-chip. And just like every other element within a digital audio system, the DAC affects the quality of the outputted sound. This is why folks who value quality audio care about what DACs go into their hardware, while more and more smartphone makers are promoting the
higher-grade dedicated DACs inside their handsets
.
This brings us to Android 5.0 Lollipop. One of the
lesser-known features highlighted during Lollipop's announcement
was the ability to connect an external digital-to-analog converter to an Android 5.0 smartphone over USB. This isn't functionality that the average Joe would care about. Audiophiles, musicians, and audio engineers, however, are likely curious to know how well it works since an external DAC is likely to perform better than an Android device's built-in one. Sure enough, we gave the feature a try on a handful of our Lollipop-flavored phones. Was the sound any better? Did the DAC work at all? Read on as we go through our findings.
Firstly, we should highlight the hardware used for testing the Android 5.0 USB DAC support:
The Audioengine D1 was our DAC of choice.
The DAC was paired with a set of Shure SE530 in-ear monitor earphones.
To connect the DAC to our Android handsets, we used the DAC's stock, gold-plated USB type B cable.
We had to couple the USB cable with a garden-variety USB on-the-go cable – the kind you get for 2 bucks on eBay.
With all the gear on hand, our ears were ready to be treated to some tunes – several rock, jazz, and easy listening albums encoded in 16-bit, 44,100kHz FLAC format.
Unfortunately, our testing hit a snag right from the get-go. The
Google Nexus 6
, being the first Lollipop smartphone and all, was the first subject to have our DAC plugged into it, but the phone could not detect that we had connected an external USB device; The DAC's power LED didn't light up at all. We had no luck with the
HTC One (M8)
or the
Sony Xperia Z3
either – all we got were error messages. Suspecting that the Audioengine DAC might be the culprit, we replaced it with a cheapo USB sound card, which worked perfectly with all three phones. We're assuming that the DAC did not power on because its power requirements were higher than what these phones could provide.
The
Samsung Galaxy S5
, on the other hand, worked beautifully with our DAC, which was up and running only seconds after we plugged it into the smartphone's USB port. As expected, the sound produced by the external DAC was noticeably superior compared to what was coming out of the Galaxy S5's 3.5-millimeter port. The Audioengine D1 treated us to better vocal clarity, better dynamics, and clearer highs, although the DAC's built-in headphone amplifier is also to blame for the results, we suppose.
Our Audioengine D1 worked flawlessly with the
Samsung Galaxy Note 4
as well. This time, however, we were finding it hard to hear a difference in sound quality between the phone's own output and the external DAC. The Note 4 sounds pretty darn good as it is.
Out of sheer curiosity, we also plugged the DAC into a phone still stuck with Android 4.4 KitKat – one of the LG G3 units we had laying around. Surprisingly, it worked without any issues. Even a Meizu MX4 with Android 4.3 on it recognized our external audio device in an instant. Looks like support for USB DAC devices has been present in Android for a while, and Lollipop is likely just refining and/or expanding the functionality. Nothing wrong with that, we suppose.
UPDATE:
To clarify, Android 5.0 adds native support for USB DAC devices. Phones running KitKat may or may not support such devices, depending on whether the functionality has been added by the manufacturer.
So yeah, if you crave for better sound out of your Android smartphone or tablet, pairing it with a USB digital-to-analog converter is an option. Although not a universal one. It turns out that not all phones and DAC devices go hand in hand, as our testing demonstrates, although externally powered ones have higher odds at working well. Furthermore, the benefit of an external DAC might be insignificant if your earphones are easy to drive and if your Android device is already equipped with potent audio hardware. Still, if you don't mind having an external DAC sucking your Android phone or tablet's battery juice, feel free to use one whenever you feel like it. Who knows, your ears might actually appreciate the difference.