Android 5.0 Lollipop on Samsung's Galaxy S5: here's how it looks like
55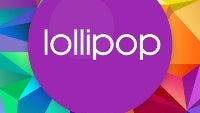 While Nexus devices have already started receiving the latest of Android, 5.0 Lollipop, the devices that are actually most popular among users, like the Samsung Galaxy S5, are still waiting for the update to arrive.
While it will likely still take a few weeks (and maybe even months) until we get to see Android 5.0 Lollipop on the Samsung Galaxy S5, SamMobile has gotten an early look at how Samsung has refashioned 5.0 Lollipop under TouchWiz, with a full-on preview of the update.
Luckily, Samsung does adopt a lot of the great elements of Lollipop - things like the card-based actionable notifications, but also it does seem to skip on some of the material design changes like the profound use of shadows to convey depth. Overall, it seems like a mixture of the visual changes in Lollipop and a lot of Samsung's own, cartoony TouchWiz sauce.
That's one of the peculiarities of Android - even when Google pushes a major update like 5.0 Lollipop, some manufacturers just don't adopt all of its ideas, like them or not. What do you think: do you like this new look of TouchWiz better than before, and how does it compare to stock Android 5.0 Lollipop in your opinion.