Android 4.4 tweak puts the battery percentage in the status bar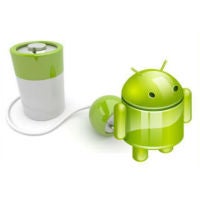 It looks like Google has been playing around with the idea of putting the battery percentage in the same battery indicator icon that you'll find in your device's status bar. The good folks over at XDA have found a way to pretty easily tweak a setting in Android 4.4 KitKat that will put the battery percentage number inside the battery indicator.
There is the (relatively) difficult way to tweak the settings, which involves pushing some commands over to your device over ADB. Many Nexus 5 users likely wouldn't have an issue doing that, but most casual consumers might be put off by having to install the Android developer tools and using the command line to tweak settings. Luckily, there is also a much easier way to tweak the setting: with an app.
If you want to give it a try, the APK links are at the source.