Android 4.3 Jelly Bean: all the new features
31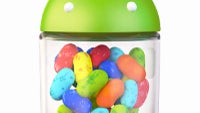 Google has
officially announced Android 4.3 yesterday
, and it's another gradual update to Jelly Bean, but what's really new about it? We've broken down the 10 biggest new features including the ones that made it into the highlights - the new multi-user system and the fact that with 4.3 Android should run even faster and smoother.
In reality, it's clear that
Android 4.3 is not a huge update from a user perspective
. Google has already done the interface polishing with Android 4.0 and its beautiful Holo UI language and Roboto font.
Now, with 4.3 it is focusing on
features that developers will appreciate
and the ten innovations listed below will be of most interest to devs, not average users. With over 1 million applications in the Google Play store, Android now can finally say that it has the largest app catalog,
bigger than Apple
and needless to say multiple times bigger than Windows Phone.
Android 4.3 makes it possible for developers to bring really console-grade games with support for Open GL ES 3.0 graphics and many under the hood improvements in the way the system handles visuals. It is adding tons of possibilities for accessory makers with Bluetooth Smart and Low Energy support. It is opening a new realm for those that want to implement location in their apps with hardware geofencing. All of that is right below, with a quick explanation of each new features in Google's own words, take a look.
source:
Android Developer