Android 4.0.4 update hits Verizon owners of the Samsung Galaxy Nexus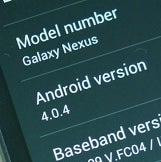 Five month ago, Verizon released the
Samsung Galaxy Nexus
. It is Verizon's first (and still their only) Ice Cream Sandwich smartphone, which came with Android 4.0.2 on-board. Though the
HTC DROID Incredible 4G LTE
will also come with ICS once it is released.
It's hard to believe that it has took this long, but it appears that the anticipated
update to
Android 4.0.4 has now started to hit
Verizon customers with the Samsung Galaxy Nexus, though it was rumored that it was going to start
earlier this week
. The official Build Number is IMM76K and should be available for over-the-air update on your Galaxy Nexus starting today. But often times updates are rolling, which means it may not hit every phone at once. If you are looking to update the device manually, or happen to be rooted, you can check this
Droid-Life link
for instructions.
Let us know in the comment section if you get the Android 4.0.4 update on your Galaxy Nexus - and what changes you notice on the device.
source:
Droid-Life
and
AndroidCommunity