And yacking for all: Transportation Department may permit phone calls during flights
5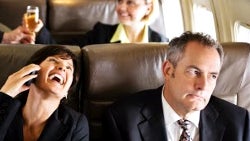 Don't shoot the messenger now - the Transportation Department is mulling whether to lift the restriction on phone calls during commercial flights. One of the last bastions of modern day tranquility - the sanctity of the plane cabin against yapping seat row neighbors - may be falling soon.
Granted, on flights with Wi-Fi connection you can already call with most any chat app, but if the Transportation Department has their way, those endless convos might just become legal and ubiquitous.
Thankfully, the DoT will be setting a few important safeguards in place - airlines will be able to choose if and on which flights to allow phone calls, and they have to publicly announce whether it is a yacking-for-all flight before take-off. There is still some time before the federal regulator makes a final decision, as it has to listen to input from airlines and passengers, then weigh all the pros and cons, but we don't like where this is heading one bit - after all, who calls nowadays, instead of chat in piece and silence for all.