Analyst cuts his forecast of iPhone sales to 38.8 million for fiscal Q2
12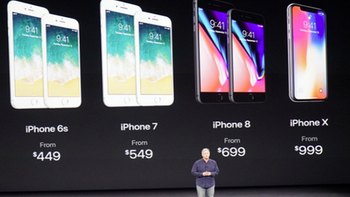 Some analysts on Wall Street have already said they expect Apple to report lower than expected iPhone sales for the company's fiscal second quarter, which ended in March. The report is expected to be released next Tuesday, May 1st, after the market closes for the day. Today, another respected Apple analyst joined the club. Bernstein's Toni Sacconaghi told clients that he has cut his estimate of iPhone sales for the period to 38.8 million units; he originally forecast that Apple would sell 41 million handsets. Wall Street, on average, sees Apple ringing up 43 million phones for the quarter.
During an appearance on CNBC this morning, Sacconaghi said that when
chip maker TSMC revised down its 2018 revenue forecast
, the company noted weakness in a high-end handset it didn't name. Considering that Apple represents 20% of TSMC sales, most Wall Streeters believe that the
iPhone X
is the high-end handset under pressure. Besides weak
iPhone X
sales, Sacconaghi blames the lengthening upgrade cycle for part of Apple's woes. He adds that the decline in iPhone sales from the December quarter (which includes the holidays) to the March quarter will be larger than typically seen. Still, he reduces the significance of that by saying the figure will still be "within the range of expect outcomes."
"We note that buyside expectations have come down considerably in recent weeks, and while such numbers would represent materially weaker than normal iPhone seasonality, they appear to be increasingly within the range of expected outcomes."-Tony Sacconaghi, analyst, Bernstein
Back in January,
Apple reportedly cut orders with companies that supply parts and components for the iPhone X
. The size of the cuts, said to be 50%, indicated that there was trouble in paradise. Nothing coming out of any Wall Street securities house since then, has been bullish for the iPhone X. Just the other day, BH Insights analyst Daniel Ives said that when it comes to Apple,
Wall Street in in "full panic mode."
source:
CNBC