Analyst says the Surface tablet will be the next Zune
43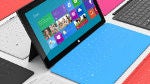 We've thought that the Microsoft Surface tablet looks pretty nice, and certainly could make a mark in enterprise if not the consumer tablet market, but not everyone agrees with us. In fact, one analyst went so far as to call the tablet the next Zune. Maybe the Surface won't be that popular, but it seems pretty harsh to drop the Z-bomb on it.
Canalys researcher Tim Coulling is saying that it's all about the price, which for both the RT and Pro versions of the Surface "will be too high to capture significant market share". The official recommendation from the firm is that OEMs hold off on making any Windows 8 tablets until "Microsoft rethinks the high license fee". Then he dropped the Z-bomb in saying, "

We expect the Surface pads to have a similar impact on the PC industry as Zune did in portable music players." Ouch.
Of course, the analogy, as harsh as it sounds, may be pretty accurate. The Zune wasn't really a bad media player and Coulling doesn't seem to see the Surface as a bad tablet. It's more a matter of launching in a very tough market at a price that isn't competitive enough. Like it or not, the iPad is still dominating the 10" tablet market (although Samsung and Asus are growing fast), and has proven itself as the only $500 tablet that people are willing to buy. The only reason the Kindle Fire or Nexus 7 have been successful is because of the price point, which Microsoft just can't match.
It does really seem like Microsoft is aiming for the enterprise market with the Surface though, so success will be measured on quite a different scale than for consumer products like the Nexus 7, Kindle Fire, or iPad. As always, time will tell.
Recommended Stories