Analyst says iPad mini cannibalization is "overblown"
18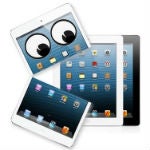 One of the major concerns for Apple with the release of the iPad mini was in the idea that a smaller, and most importantly, less expensive tablet would "
cannibalize
" Apple's sales of the full-size iPad. But an analyst at Morgan Stanley has conducted a survey (which we think doesn't necessarily disproves the idea of cannibalized sales), and is now saying that despite the numbers, the calls of iPad mini cannibalization are "overblown".
Huberty says that these numbers show that the cannibalization risk from the iPad mini is "manageable," but we're not sure where that conclusion comes from.
The trouble that we have with that assessment is that the survey didn't ask what the purchase plans had been before the iPad mini release, nor does it have any comparison to a survey done before the iPad mini release. All the numbers show is that almost half of new iPad owners will be new to iPads, it doesn't really give any indication of intent and whether that intent changed with the iPad mini release. And, that intent change is really the key to the cannibalization debate.