Analyst: Verizon and Apple still "ironing out" details of the pair's iPhone deal
30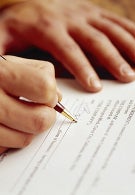 According to Kaufman Brothers analyst Shaw Wu, Verizon and Apple are still "ironing out" the details of a deal that would bring the iPhone to the carrier. Wu says that it is both financial and technological differences that keep both parties from signing off on the contract. According to the analyst, one major issue on the technology side is whether or not Apple will build a CDMA iPhone for 2011 or an LTE model for 2012 when Big Red's 4G network should reach a larger number of its customers.
For the moment, it would appear that both parties are thinking about using SVDO before switching over to LTE. SVDO is a technology that allows for simultaneous voice and data. Verizon's pipelines currently have different voice and data delivery methods, which could limit the use of certain iPhone apps on Verizon. The carrier is said to working on Voice over Revision A (VoRA) which would merge the delivery of voice and data over Verizon's EV-DO network.
Wu also notes that it would be "premature" to rule out T-Mobile or Sprint as possible recipients of the iPhone. Together, the two carriers serve 82 million customers, many of whom would no doubt love to see Apple's touchscreen device on their current network. Thanks to the strong momentum that Android phones have had in the U.S. over the last 10 months, Apple needs to let the iPhone become available on other carriers in order to sustain the strong sales growth that the device has had this year, thanks to its first redesign.
Apple iPhone 4 Specifications
|
Review
source:
electronista