Analyst: Samsung Galaxy S III sales remain strong despite trial and Apple iPhone 5 launch
99+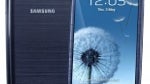 Perhaps those
ads Samsung has been running
for the
Samsung Galaxy S III
, the spots that make fun of those waiting on line for the
Apple iPhone 5
, have been paying off after all. Analytics firm Localytics has crunched the numbers and found out that sales of the Samsung Galaxy S III
have not slowed down a tick
despite a couple of potential roadblocks. First was the epic patent trial between Samsung and Apple. We wouldn't say that the entire nation was captivated by the court battle, but for smartphone junkies and geeks, it was their version of the Super Bowl and
the verdict became front page news
. Then came the introduction and launch of the Apple iPhone 5. How did the Samsung Galaxy S III respond to these challenges? Read on!
Localytics provides analytics and marketing to the largest publishers of iOS and Android apps. From this perspective, they have a handle on the number of new Samsung Galaxy S III units seen by apps each week. Based on those numbers, average sales of the Samsung Galaxy S III have have
grown on average 9% each week since August 1st
. Not too shabby at all. But even more impressive is that sales spiked twice since August 1st. The first time came right after the $1.05 billion jury verdict against Samsung as sales of the flagship Android smartphone soared 16% the same week that the verdict was announced. Localytics says that the sales jump occurred because press coverage made it appear that the Samsung Galaxy S III was similar to the Apple iPhone, giving fans of the latter device another option.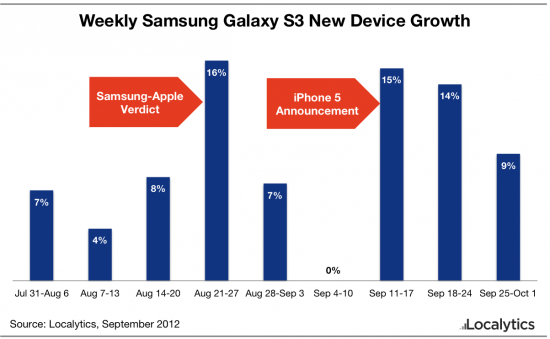 Samsung Galaxy S III sales keep on marching forward
The second spike came on the same week of the September 12th introduction of the Apple iPhone 5. That week, sales of the Galaxy S III popped 15% although it should be pointed out that the week before the Apple iPhone 5 introduction, sales of the Samsung Galaxy S III showed no growth at all from the prior week. All of that
pent up demand
hit right after the 6th generation Apple iPhone was unveiled. Obviously this indicated that potential phone buyers waited to see what the Apple iPhone 5 would offer, and perhaps were not impressed enough to change their purchasing plans.
For the week ended this past Monday, the Samsung Galaxy S III showed 9% growth. These figures are cumulative which means at this point, Samsung is selling a ton of Galaxy S III units even after it's main competitor has been released. Looking ahead, the next challenge comes from the same stable with the
upcoming U.S. launch
of the
Samsung GALAXY Note II
. The
HTC One X+
,
announced on Tuesday
, and all of those new Windows Phone 8 models might also offer some competition as well as the
LG Optimus G
. Right now, it certainly looks like the Samsung Galaxy S III does not have a glass jaw. It has taken some shots squarely to the face and has responded by getting stronger.
source:
Localytics
via
BGR