Analyst: Google Nexus 7 trailed the Apple iPad mini and the Amazon Kindle Fire in 2012
8
Google doesn't break down individual sales figures for the
Google Nexus 7
. But industry analyst Benedict Evans decided to use the back door and took various statements from ASUS' chief executive to figure out how many units of the tablet were sold in 2012. ASUS, obviously, is the company that manufacturers the slate and based on comments from the CEO, Evans believes that 4.8 million units of the 7 inch tablet sold last year. That dovetails with other comments made that show 2.1 million to 2.2 million sold in the third quarter, and 2.4 million sold in the last quarter of the year. Overall, the analyst is content with quoting a sales number of
4.5 to 4.6 million
Google Nexus 7 tablets for 2012, with no more than 4.8 million sold.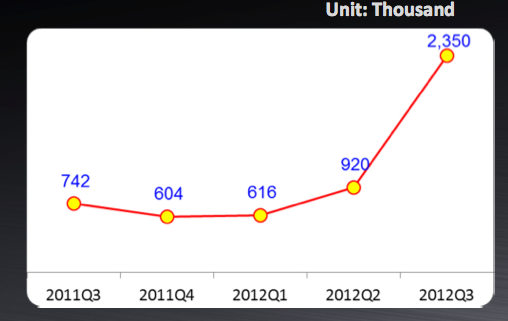 This chart shows ASUS' tablet sales
The Google Nexus 7 and its 7 inch screen is obviously one of the the tablets that Apple is going after with the 7.9 inch
Apple iPad mini
. While the Cupertino crew doesn't breakout iPad mini sales from total tablet sales, the analyst estimates that Apple sold
10 million units
of the tablet last year, even though
it launched in November
. Despite what seems like widespread acceptance of the iPad mini, the low resolution on the tablet has
everyone looking for Apple to release a sequel with a Retina display
.
The father of the low priced 7 inch niche tablet is the Amazon Kindle Fire. Last year, the sequel was introduced and while Amazon does not breakdown numbers for the tablets, Evans says that his guess is that the
Amazon Kindle Fire
also outsold the Google Nexus 7 last year. But both competitors could be in for a surprise if some recent speculation is true. The word is that the Google Nexus 7 is getting a face lift to a higher resolution screen with no change in price. If true, the Apple iPad mini and the Amazon Kindle Fire could run into some tougher competition in 2013.
source:
BenedictEvans
via
BGR
Recommended Stories