American Apple iPhone users spend more time each day with their phone than Android users
39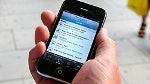 According to a study by Experian, Apple iPhone users in America spend an average of
1 hour and 15 minutes
using their handset every day. This compares to the average 49 minutes spent daily on their phone by Android users in America. Overall, the typical American smartphone owner uses his or her smartphone for 58 minutes on average, each day.
Even though American Android users spend less time on their phone than iPhone users, they are a chatty bunch. 28% of each day's smartphone sessions are devoted to talking if you're sporting a phone running on Google's open source OS. Apple iPhone users spend 22% of their phone time talking on the phone. And despite mobile Safari being considered the best smartphone browser by many, the typical American iPhone user spends 12% of his phone time on the internet compared to 16% for Android users.
One thing that Apple iPhone users do much more often than their Android using counterparts, is text. 22% of the time spent using an iPhone by an American is to get those thumbs working over a hot text message. For those using Android, that figure is 16%. Can the difference be explained by the highly thought of virtual QWERTY on iOS, or is there
something else
at play here?
As for Americans all together, of the nearly 1 hour spent daily with their smartphone, 26% consists of phone calls and 20% of sending and receiving text messages. Using a social network makes up 16% of the hour while browsing is at 14%. To round out the top 6, we have checking or writing email and playing games (9% and 8% respectively).
source:
AllThingsD