Amazon's Kindle Fire HDX gets torn down: battery almost impossible to replace
2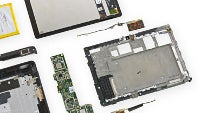 The new Amazon Kindle Fire HDX is one of the best small tablets available right now. It is very similar to the Nexus 7 in size, screen and resolution, but very different in terms of looks and functionality. However, what is it that really makes it tick? Device surgeons from iFixit have put their crafty fingers on Amazon's latest 7 incher to bring us a glimpse inside the tablet.
Tearing down the Kindle Fire HDX is not easy, but not impossible either. With some prying around, unscrewing and unlocking of clips, you can open the tablet without a heat gun and that's good news. However for those who like to play around with components, or simply if you need to repair the handset, the challenge just begins.
Under the hood, the battery is glued and in order to change it you need to actually separate the motherboard. Even worse news is that doing so is difficult / bordering with the impossible as you have to separate the screen.
Finally, the LCD is actually fused to the cover glass so you need to replace both if it cracks making repairs more costly. All in all, the Kindle HDX scores a very poor 3 out of 10 for repairability.