Amazon says Black Friday weekend Kindle sales doubled over 2011, but what does this mean?
3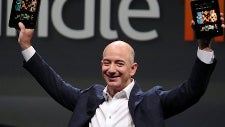 Amazon is now saying it has doubled Kindle sales over the Black Friday / Cyber Monday weekend. Great! But what does it mean?
In reality, it means little. Amazon is not releasing sales numbers for its Kindles, so we don't know how many were sold at the same period last year. Moreover, it is not even saying how this breaks down. Were those mostly cheap e-ink Kindle e-books? Or were there more of the Kindle Fire HD Android-based tablets.
No one knows.

Still, the news are good. We just can't tell how good. However, there are some vague mentions that are worth considering. First, Cyber Monday 2012 was the busiest day for Kindle sales from a global perspective. Amazon's 4 worldwide bestsellers are all Kindles. Customers loved the $129 deal on the 7-inch Kindle Fire tablet. And finally, the Fire HD is the most gifted and wished for product on Amazon.
Topping it all up comes the fact that 9 of 10 best sellers since early September have been Kindles, content and accessories for them.
Still, there are now 7 variations of the Kindle - 3 ebooks, and 5 tablets, so Amazon, we wouldn't mind you getting a bit more specifics next time, okay?
source:
Amazon
via
Reuters