Amazon joins Apple in the one trillion dollar club
8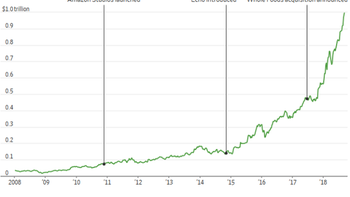 On August 2nd,
Apple became the first public company in the U.S. valued at $1 trillion dollars
. Today, a little more than a month later, Amazon also joined the club. The company became worth one trillion dollars when the stock hit $2,050.27 earlier today. 2018 has been an incredible year for investors in Amazon, with its shares up 75% since January when it was valued at $565 billion. In the process, the surge has made company founder and CEO Jeff Bezos the richest man in the world with a net worth of $166 billion.
Originally conceived as an online bookseller, in 2011 Amazon released its own line of tablets that employ a forked version of Android without Google Play Services. The company tried to break into the smartphone business with the release of the
Amazon Fire Phone
during the summer of 2014, but
the device did not find any traction among consumers
.
But Amazon captured the consumer tech spotlight in a big way with the 2015 launch of the Amazon Echo. The device created the smart speaker category that is growing by leaps and bounds. More importantly for Amazon, the device introduced its Alexa virtual personal assistant to the world. Currently considered among the top two digital helpers (along with Google Assistant), Alexa can stream music; turn on/off smart appliances; order a ride for a pizza; set an alarm or timer; reveal the latest news, sports scores, stock prices and weather; play games and a whole lot more.

Thanks to investors' current appetite for Amazon's shares, $1,000 invested in the company during its IPO in 1997 is now worth $1.4 million. At the time it went public, Amazon was valued at $500 million.