Amazon getting ready a 7- and 10-inch successors to the Kindle Fire this year?
4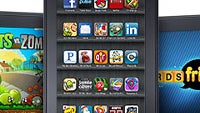 In the coming months, Amazon will follow up on the Kindle Fire with not one, but
two tablets
- one with a 7-inch display and another one including a 10-inch slate, according to BGR.
The seven incher comes with a huge improvement in build quality, if we are to believe the publication's anonymous sources. The dual-core chip in the original Fire was a great value for the money, but the build quality felt on the cheap side with soft touch plastic.
The new models will allegedly feature a metal casing.
"It's really up a notch from the current Fire,"
the source that got to play with both devices commented.The back of both tablets will sport a chrome-look "rib," contrasting against the black matte finish. It will allegedly house the speakers and contribute to a better feel and appearance.
Another good news is that the tablets will be
thinner than the third-gen iPad
, and come with no physical buttons on the front.
The original Kindle cut it short when it came to cameras and had none, but the new 10-inch model allegedly features a front-facing snapper. Both tablets come with a microUSB port and another port that may or may not be for HDMI.
BGR has a mixed track record, so we'd definitely equip ourselves with some healthy doubt, but the hands-on experience it paints definitely adds credibility, so we wouldn't be so surprised if all that came true.
source:
BGR
Recommended Stories