Amazon closing in on the acquisition of webOS from HP, sources claim
6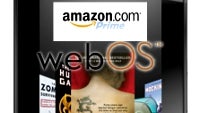 The Amazon Kindle Fire is obviously not some willy-nilly attempt by the online retail giant to jump on the eventual tablet gravy train, since it is
so interwoven with all of Amazon's services
.
After the plans for a second,
10.1" tablet made by Foxconn for next year
were revealed, now a report broke out that Amazon might actually be in this for the long term, and has
offered HP to buy webOS from them
, most likely for its future tablets.
The sources say that HP is actively looking not to leverage webOS and use it for something not quite clear yet, but rather to pawn it off to the highest bidder, and Amazon is reportedly the closest now to inking a deal.
Of course, these negotiations might have started during CEO Leo Apotheker's time,
who just got ousted last week
with a $13 million golden parachute, while the new CEO Meg Whitman took in $1-a-year salary and stock options, SJ style. It is not clear if she will be willing to go with the alleged sales of webOS to Amazon, but it all depends on the price, we guess. Speaking at an interview with
This is my next
in July,
Palm's Jon Rubinstein actually mentioned Amazon as a desirable partner for webOS
, so talks might have been in an advanced phase even then:
So, we'd like a partner that would allow us to expand the webOS ecosystem… There's a variety of different sets of a characteristics to qualify as a good partner. I would say Amazon would certainly make a great partner, because they have a lot of characteristics that would help them expand the webOS ecosystem. As to whether there's been discussions or not… that's obviously not something I'm going to comment about.