Meg Whitman succeeds Leo Apotheker as CEO of HP
12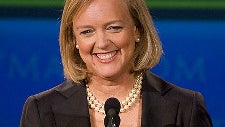 Whitman is not just an interim fill-in - she's taking over the company in the long term. While some have pointed out that she doesn't have the experience running a tech company, others have noticed her communication skills and understanding of customers, something Apotheker might have been sorely missing.
But
does this bring a new strategy?
Not necessarily. Whitman has taken a conservative stand saying that the strategy was right (why change the CEO then?), but the problem is in the execution. Spining off the PC division is still on the discussion table and it will be decided on by year-end. As to webOS, the new CEO is still looking to "optimize its value."
The ousted CEO, on the flipside of things, will part the company with a
$25 million severance
package, consisting of over $7 million in cash and $18 million in stock. Phone and tablet aficionados will remember the now former CEO for basically killing the $1.2 billion webOS project at HP by ditching such devices as the TouchPad and the Pre 3. During his time at HP, the company's value decreased by 47% and the company has announced it's about to spin off its core PC business.
Interestingly, in just the last couple of years HP has went through the
costly process of changing CEOs
multiple times. Mike Hurd, who quit HP over a mysterious sexual harassment allegations scandal, got $12.2 million. CFO Cathie Lesjak stepped in for three months as an interim CEO and got a total of $3.6 million. Ex-CEO Carly Fiorina was granted $21.4 million in cash and $21.1 million in stock. The grand total for HP's CEO decisions comes at the whopping $83.3 million.
Additionally, a
$11.7 billion acquisition of British software company Autonomy
has been negotiated as part of the Apotheker plan of turning HP into a SAP-like enterprise software giant and it will be hard to reverse all of that, if that's Whitman's plan. After getting appointed, Whitman said:
"I am honored and excited to lead HP. I believe HP matters – it matters to Silicon Valley, California, the country and the world."
We leave it up to you to say what needs to be done and what your expectations are about the future of HP.
Could we see webOS reborn
as some would hope? While you think about it, feel free to take a look at Apotheker's final email to employees below.
TO/ All HP Employees
FROM/ Léo Apotheker
Dear HP Employees:
This afternoon, HP issued a press release announcing my resignation as president and CEO, positions I have held with great honor this past year. Meg Whitman will assume the role of president and CEO.
As you know, Meg is a technology visionary with a proven track record of execution and has served HP well as a member of the board for the past eight months. Meg will be supported by a broad and deep management team, and I have the utmost confidence that HP will succeed in executing its strategic evolution.
On a personal level, I cannot begin to express the admiration I have for all of you – and what you have accomplished together. Over the past year, we were tasked with developing a strategic vision for HP and I know we have made important contributions to the company's future.
Your efforts on behalf of HP and your dedication to our customers have inspired me – and I am confident that HP has a bright future because of the talented people that come to work here every day. Thank you for your commitment to HP and for your dedication in serving HP's customers and partners. It has been a tremendous honor and a pleasure to work with you here at HP.
Sincerely,
Léo Apotheker
HP Names Meg Whitman President and Chief Executive Officer
Ray Lane appointed executive chairman; Léo Apotheker steps down as president, chief executive officer and director
PALO ALTO, Calif.--(BUSINESS WIRE)--HP (NYSE: HPQ) today announced that its board of directors has appointed Meg Whitman as president and chief executive officer.
"We are fortunate to have someone of Meg Whitman's caliber and experience step up to lead HP"
In addition, Ray Lane has moved from non-executive chairman to executive chairman of the board of directors, and the board intends to appoint a lead independent director promptly. These leadership appointments are effective immediately and follow the decision that Léo Apotheker step down as president and chief executive officer and resign as a director of the company.
"We are fortunate to have someone of Meg Whitman's caliber and experience step up to lead HP," said Lane. "We are at a critical moment and we need renewed leadership to successfully implement our strategy and take advantage of the market opportunities ahead. Meg is a technology visionary with a proven track record of execution. She is a strong communicator who is customer focused with deep leadership capabilities. Furthermore, as a member of HP's board of directors for the past eight months, Meg has a solid understanding of our products and markets."
Whitman said, "I am honored and excited to lead HP. I believe HP matters – it matters to Silicon Valley, California, the country and the world."
Speaking on behalf of the board, Lane said, "We very much appreciate Léo's efforts and his service to HP since his appointment last year. The board believes that the job of the HP CEO now requires additional attributes to successfully execute on the company's strategy. Meg Whitman has the right operational and communication skills and leadership abilities to deliver improved execution and financial performance."
About HP
HP creates new possibilities for technology to have a meaningful impact on people, businesses, governments and society. The world's largest technology company, HP brings together a portfolio that spans printing, personal computing, software, services and IT infrastructure at the convergence of the cloud and connectivity, creating seamless, secure, context-aware experiences for a connected world. More information about HP is available at http://www.hp.com.
This news release contains forward-looking statements that involve risks, uncertainties and assumptions. If such risks or uncertainties materialize or such assumptions prove incorrect, the results of HP and its consolidated subsidiaries could differ materially from those expressed or implied by such forward-looking statements and assumptions. All statements other than statements of historical fact are statements that could be deemed forward-looking statements, including but not limited to statements of the plans, strategies and objectives of management for future operations, including execution of growth strategies, transformation initiatives and restructuring plans; any statements concerning expected development, performance or market share relating to products and services; any statements regarding anticipated operational and financial results; any statements of expectation or belief; and any statements of assumptions underlying any of the foregoing. Risks, uncertainties and assumptions include macroeconomic and geopolitical trends and events; the competitive pressures faced by HP's businesses; the development and transition of new products and services (and the enhancement of existing products and services) to meet customer needs and respond to emerging technological trends; the execution and performance of contracts by HP and its customers, suppliers and partners; the protection of HP's intellectual property assets, including intellectual property licensed from third parties; integration and other risks associated with business combination and investment transactions; the hiring and retention of key employees; expectations and assumptions relating to the execution and timing of growth strategies, transformation initiatives and restructuring plans; the resolution of pending investigations, claims and disputes; and other risks that are described in HP's Quarterly Report on Form 10-Q for the fiscal quarter ended July 31, 2011 and HP's other filings with the Securities and Exchange Commission, including but not limited to HP's Annual Report on Form 10-K for the fiscal year ended October 31, 2010. HP assumes no obligation and does not intend to update these forward-looking statements.
© 2011 Hewlett-Packard Development Company, L.P. The information contained herein is subject to change without notice. HP shall not be liable for technical or editorial errors or omissions contained herein.