Amazon Kindle Fire 2 might start shipping as early as May
4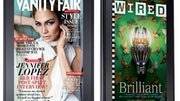 Are you planning on getting an
Amazon Kindle Fire
soon? If so, you might want to hold on to your cash for now, as a successor could be well on its way. Last week, we reported that a new,
7-inch Kindle Fire is being planned for a mid-2012 launch
along with a bigger, 9-inch model. And today, another source told
China Times
that the
Amazon Kindle Fire 2, as the tablet will likely be called, could start shipping as early as May of this year
.
According to the source, the next Kindle Fire model will not be produced solely by Quanta, but will be also assembled at the Foxconn factories in order to cut production costs. Furthermore, Amazon will now have a better control over what components go inside the Kindle Fire 2, instead of leaving OEMs make those decisions, as the case reportedly was with the current Kindle Fire. Currently, Amazon is losing money by selling each of its $199 tablets at a loss hoping that
the sales of digital content will make up for that
. But with the successor expected to be at least as big of a success as the current model, Amazon might be able to negotiate better component prices, thus keeping the retail price of the tablet low.
Although the exact hardware specification of the Amazon Kindle Fire 2 has not been set in stone yet, manufacturers are expected to receive the components at some point in March. If everything goes as planned, the Kindle Fire 2 might start shipping in May or June of this year. Of course, all of that information is unofficial yet, so taking it with a grain of salt is advisable.
Recommended Stories