Amazon Fire Phone hands-on
12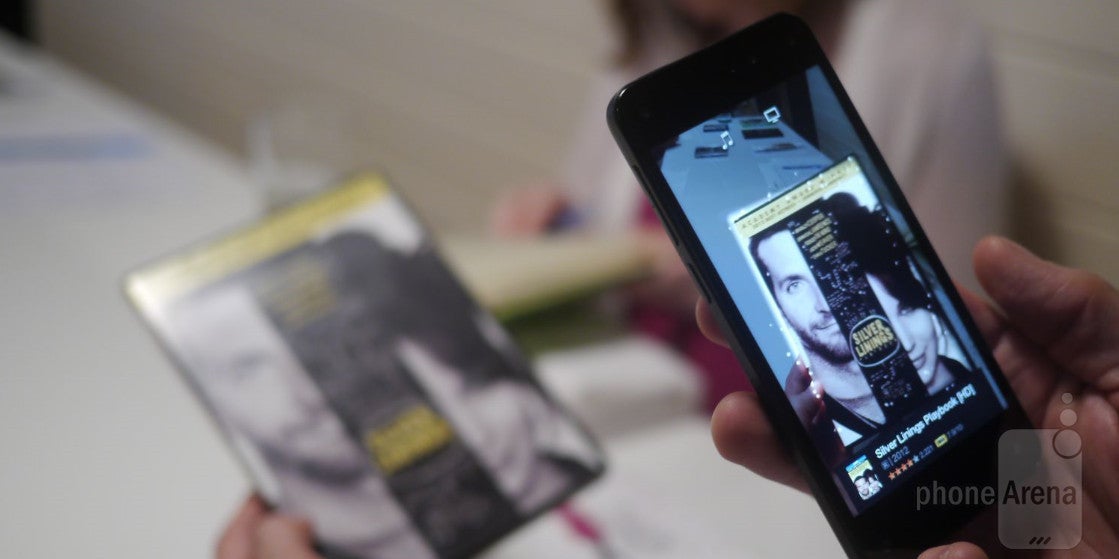 Amazon is embarking on an ambitious quest to break into the highly lucrative smartphone market – one that's dominated by many top-class contenders that don't want to face another competitor. Just last month, Amazon officially unveiled its highly anticipated Fire Phone, which not only conveniently brings many of Amazon's services to the mobile front, but is also offers a neat 3D effect with its display. During AT&T's Holiday Showcase event, held in New York City, we finally got a chance to check out the phone in person – and boy are we intrigued by it!
Design
After finally holding the Amazon Fire Phone in our hand, its design instantly reminds us of several other notable smartphones. For example, there are similarities to the Google Nexus 4, as the Amazon Fire Phone sports a glass surfaced rear and a subtle rubberized bumper bezel – so there are easy comparisons to draw. Nonetheless, we'll say that it's quite obvious that Amazon goes forth with a minimalist approach, which shouldn't be all too surprising considering that it matches humble design language of Amazon's Kindle Fire tablets.
Display
For a phone that's going toe-to-toe against some of the giants in the space, the Amazon Fire Phone's 4.7-inh 720p IPS LCD display seems rather underwhelming on paper – more so in the details department. Honestly, though, its 720p resolution is still pretty darn good, as we're able to make out most of the details.
Now, what's most profound with the display is the nifty 3D effect its screen is able to pull off – thanks in part to the cameras placed discretely around the display. As we're moving and tilting our head around, the wallpaper is able to move around accordingly. Unlike the parallax effect we currently see with iOS, it's more profound here as the most subtle head movements causes the 3D wallpaper to shift.
In all fairness, the feature is undoubtedly cool, but it's really tough to say whether it'll pan out to be a useful or novel thing. Well, at least it's one thing that separates it from all of the competition out there.
Interface
Adhering to all things Amazon, the Fire Phone is not surprisingly running a heavily customized Android experience – one that puts all of Amazon's services on the forefront. Spending just a small amount of time with the phone, there's obviously a learning curve to overcome, seeing that Amazon's Fire OS is something new in the smartphone front.
During our demo time, we were intrigued by how the phone is able to register the various hand gestures – to do different things, like scrolling in the web browser. It even works in other core apps, such as the email app, where tilting the phone to one side opens our inbox menu, while tilting it the opposite way, jumps to a listing of contacts. Therefore, rather than swiping over with our finger, these hand gestures can be used instead. Is it practical? We'll figure that one out when we spend more time with it.
Finally, the last feature demoed to us with the new interface was Firefly. The feature is looking to redefine the way we shop, as snapping photos of anything causes the phone to look up and provide us with relevant content pertaining to it. For example, a photo of a CD case was snapped, which then provided us a link of where we can purchase it. If you're that kind of person that loves to showroom, this is one feature that you'll certainly enjoy.
Processor and Memory
Powered by a quad-core 2.2GHz Qualcomm Snapdragon 800 SoC coupled with 2GB and the Adreno 330 GPU, it's not the latest and greatest chipset from the popular maker, but nonetheless, the hardware seems potent enough to give the Amazon Fire Phone a fair amount of responsiveness. With those heavy 3D-like effects, the phone is able to smoothly make all the proper transitions – even when we're bobbing our head abruptly. Furthermore, the phone seems to run fine with different operations.
In terms of storage, the phone is going to be available in two capacities only – 32GB and 64GB, with no way of supplementing that tally.
Camera
Around the rear, the phone is armed with a formidable sized 13-megapixel camera that features a f2.0 aperture lens, optical image stabilization, and 1080p video recording. Over on the front, there's a 2.1-megapixel camera ready for all of those selfie occasions. Unfortunately, we can't talk too much about its quality, seeing that the only thing demoed to us pertaining to its camera was its Firefly feature.
Expectations
Now that all of the chatter regarding the Amazon Fire Phone has toned down a bit since its unveiling, we'll say that we somewhat intrigued by this phone after checking it out. First and foremost, its $200 on-contract pricing is already being thought of as overpriced by many folks – especially when it's based solely by its specs. In this day and age, we've come to realize that phones don't need beefy specs in order to come out on top, which was evidenced last year with the Moto X.
In some way, the Amazon Fire Phone is shaping up to be the same thing, but it's obviously going a different route with its heavy integration of Amazon's services. Naturally, it's something that would easily appeal those who shop Amazon religiously, but it'll be interesting to see how it can win over the general consumer – more so when it's competing in an already crowded space.