Amazon Fire Phone: all the official images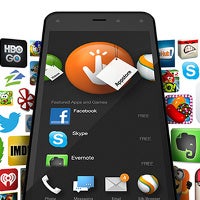 The
Amazon Fire Phone is now official
: it's the first handset that implements cool 3D-like effects all throughout via a whopping four front-facing infra-red camera that track your head in all conditions.
This unique technology, along with flagship-grade specs (hey, save for that 720p 4.7" display!) make the Fire Phone stand out among all the rest, but it's really more about the services and 3D features than about the specs and technical details.
Amazon has now published all the official images of the Fire Phone, and you can look at it from all sides, so before diving into the details of Amazon's first foray into smartphones, we present you with all the press shots where you can see the phone's clean design, dedicated Firefly key, apps, and other features. How do you like what you see?