Allergy to the Apple iPad could leave you with a rash
31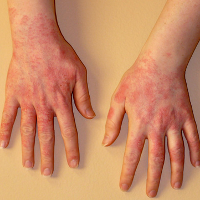 Have an unexplained rash on your body? The source of this skin irritation could be in your hands right now. According to
Pediatrics
, cases of allergic contact dermatitis have been on the rise due to materials used on smartphones and tablets. One explanation is the use of nickel on mobile devices, leaving an uncomfortable red, itchy rash.
The report cites the case of an 11 year old treated for contact dermatitis. The doctors tested his first generation
Apple iPad
and found that it contained nickel. The doctors told the child to put a case on his tablet, and once he did, the rash improved significantly.
You might recall that back in February, fitness band manufacturer
FitBit had to recall the Force wristband
after some users ended up with a rash and a case of contact dermatitis. Back in 2012, we told you that
some BlackBerry users were experiencing the problem
due to the use of nickel and/or cobalt on their handset. Strangely enough, tests done on the iPhone back then did not reveal any of the allergens.
If you notice that you have an unexplained rash on your body, and you do own a smartphone or tablet that you use often, try putting the phone or the tablet in a case. If that doesn't help, you might want to consider investing in a trip to the doctor to see what type of treatment might help. After all, putting down your phone or tablet for good is probably not an option.
source:
USAToday