Alleged press image drafts for the Google Nexus tablet emerge, to sport Android 4.1
21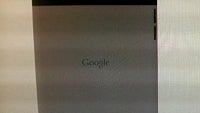 We were just sent a couple of computer screen pictures claimed to show press image drafts for the
upcoming Google Nexus tablet
, made by
Asus
. As a reminder, Google is heavily rumored to unveil a
7" Tegra 3 slate with an updated version of Android
, that it might sell directly in the
sub-$250 range
, expanding the Nexus concept to tablet devices.
If these pictures are credible, the Google Nexus slate (naming not final yet we are told) will look pretty decent with this white front and two-tone back, but the presence of an earpiece slit is a head-scratcher. It seems to have a full suite of sensors as well as a video chat cam on the front, plus a huge circle on the back, possibly indicating a rear shooter too.
Our tipster reiterates quad-core Tegra 3 as the CPU, and adds that the device is likely to sport 1GB of RAM, as far as specs are concerned. The Android version that will eventually be loaded on the device, however, is not going to be
Android 5.0 Jelly Bean
, which is still a rumor anyway, but rather
Android 4.1
, they note.
This new version was hinted by our tipster to be an update to Android 4.0 like Éclair 2.1 was to Éclair 2.0, i.e. one that brings plenty of new features without being a complete visual overhaul. Let's not forget that Android 2.0 to 2.1 brought on Google Earth, and
Google is said to introduce 3D Maps today
and
offline navigation at its I/O conference
later this month, so that's what might be in store with the Nexus tablet and its eventual Android 4.1 update.
Thanks for the tip!