The "next dimension" of Google Maps is going to be unveiled on June 6th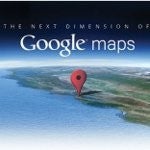 Even though there is growing word about
Apple's intentions to throw Google Maps overboard
in favor for its own homebrewed offering, after its acquisitions of C3 Technologies, Placebase, and Poly9,
Google
is doing its part in keeping its beloved maps app extremely relevant. Of course, we'll know more about Apple's plans at this
upcoming WWDC
, but Google is planning to unveil "
the next dimension
" of Google Maps ahead of the competition.
Specifically, invitations to the media have been sent out, where it clearly shows a
9:30 AM June 6th unveiling
. Peering into the invitation itself, we can infer quite a few juicy things – like the hint that we'll possibly see 3D view maps incorporated throughout it. In fact, the notion of it being unveiled is alluded in the angled shot of the photograph in the invitation.
via
SlashGear