Alleged Samsung Galaxy S6 images show a completely assembled and running phone
81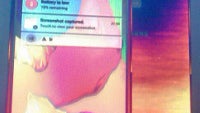 The
Samsung Galaxy S6
is getting closer to its official unveiling that has traditionally happened in late February or early March, and you can tell just by the sheer amount of leaked images and specifications. This latest leak allegedly shows a fully assembled and running Galaxy S6 in three different color versions.
Why do we say
'allegedly'
? It's a leak that looks similar to previously leaked parts, and we cannot vouch for its authenticity or veracity, as it comes from Iranian blog Toranji that does not have that rich of a track record.
It does strike a couple of familiar, typical Samsung notes - a wallpaper that looks to be made in the Samsung style, Android 5.0 Lollipop-styled notifications, the signature Samsung design with a large physical home key up front..
You can also see a few of the new elements - the metal design of the frame in particular. The change, however, is far from ground-breaking, and, at least from this leak, does not seem to live up to the promise of Samsung going back to the drawing board and reshaping the Galaxy S6 completely to
'Project Zero'
level.
Meanwhile, let us remind you that current speculations claim the Galaxy S6 will come with a 5.2" or 5.5" Quad HD (1440 x 2560-pixel) Super AMOLED display, a 64-bit Snapdragon 810 system chip, as well as Android 5.0 Lollipop. It's also worth noticing that the latest speculations from Chinese blogs suggest that Samsung might release two 'flagship' devices in early 2015 -
one with an 'edge' screen like the Galaxy Note Edge
, and another, traditional one with less inspiring looks, but at a more affordable price.
We'll keep on looking for more information about the Galaxy S6, but at the moment don't forget that all of these early leaks should be taken with a pinch of salt.
source:
Toranji.ir
Recommended Stories