Alleged Galaxy S7 and S7 edge specs leak - big batteries, new camera
86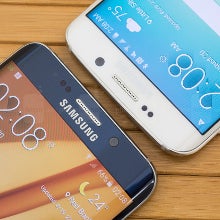 With the
Galaxy S7
leaks piling on, it was a matter of time until a claimed full specs sheet appears, and today is the day when the vast prairies of the Chinese tech blogosphere rounded up most of what has been said so far in the table below. It mostly divulges info that we have heard before - that a larger, 5.5"
Galaxy S7 edge
will be released alongside the
5.1
-inch S7, and that there will be
bigger batteries
,
new cameras
,
faster chipsets
, and
microSD slots
inside the two handsets. In fact, the source says that the S7's screen is precisely 5.17", that is why there are conflicting reports about the display size, as it gets rounded up or down to 5.2 or 5.1 inches, respectively.
The exact battery capacities are listed as 3000 mAh for the S7, and 3600 mAh for the S7
edge
. If true, these will be the largest juice packs in the Galaxy S line history so far, and,
given Samsung's way with power consumption lately
, should translate to excellent battery life, too. Where there is smoke there is fire, as we already heard a tip
claiming larger batteries in thicker chassis
. Moreover, the recent
Galaxy A9
is hopefully setting a new trend for Samsung, as it comes packing a huge 4000 mAh unit, maybe as a harbinger of things to come in the S-line as well.
Granted, the whole table is rehashing rumors we've heard so far, plus the
S6 edge+
is mistakenly marked as having a 5.5" instead of a 5.7" display, but hopefully that's because its screen info table cell has been directly copied from the one of the S7 edge. A 12 MP camera with f/1.7 aperture is listed, too - perhaps that
rumored unit with dual-PD (dual-photodiode) technology
, and a largish for a mobile camera, 1/2" sensor area size. If that turns out to be credible, Samsung might be done with the pointless resolution wars, and focus on improving more important photography aspects instead. Given the already excellent cameras on the
S6
and
Note 5
, we can't wait to see what the S7 will bring. In any case, looking at these specs below, would you pick the 5.1"
Galaxy S7
, or the 5.5" S7 edge, if the whole list turns out to be true?