All go90 subscribers can stream five free NBA games using the app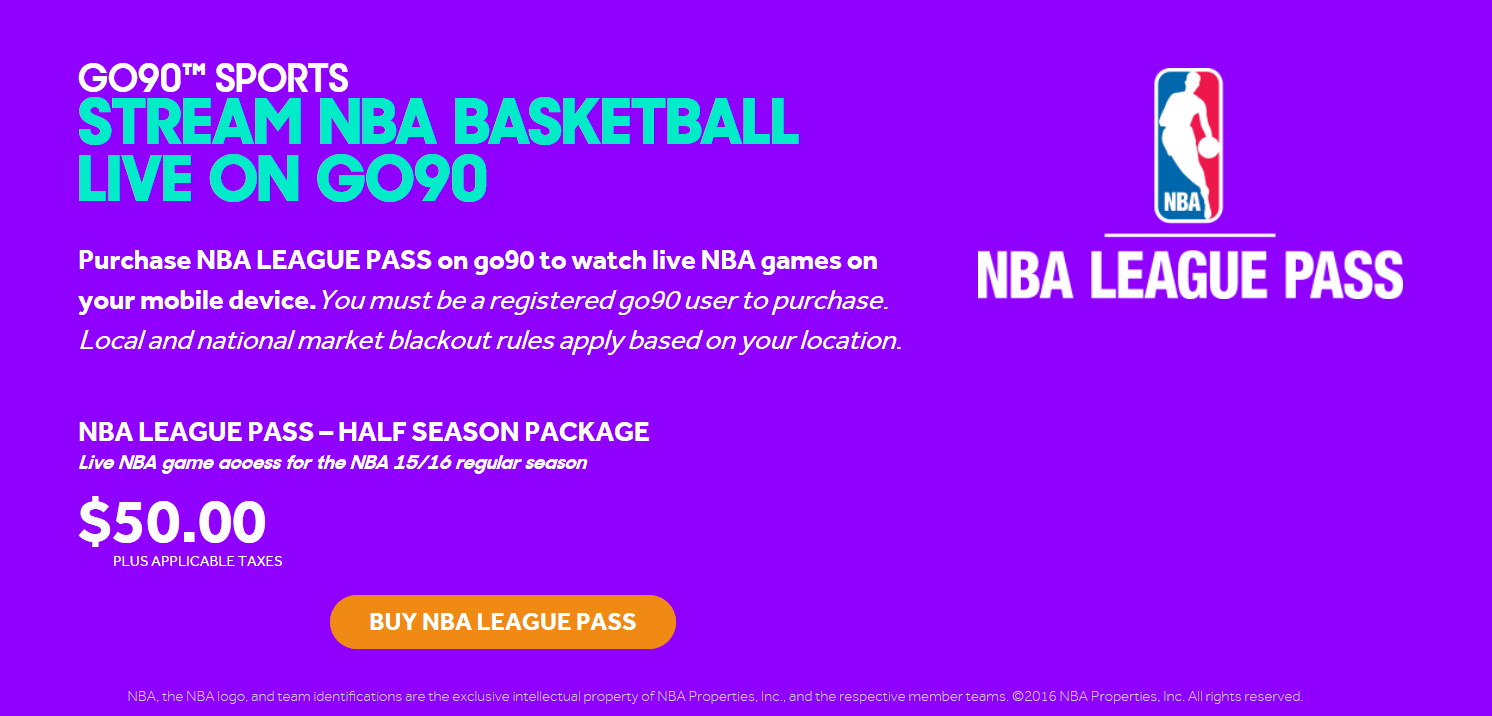 Watch NBA League Pass via the go90 app for $50
Love the NBA? Do you wear a Stephen Curry jersey, a LeBron James headband and a Dwayne Wade black t-shirt whenever you go out? Do you live and die after each game depending on whether your favorite team wins or loses? If that sounds like you, you can watch live streaming NBA action wherever you go thanks to Verizon's go90 app.
Spend $50 to subscribe to NBA League Pass, and you can watch games streamed to your phone as they happen. To give you an opportunity to decide whether you want to spend that $50, all go90 users will have the opportunity to stream five NBA games for free. Besides those five freebies, Verizon has two remaining preview weekends during the second half of the season. All of the games available to stream during those two preview weekends are free to watch, and will not count toward your five free games.
Now, we do have some bad news. Games involving your local team and nationally televised contests are not included in NBA League Pass. That makes it more suited to the transplanted New Yorker who roots for the Knicks, or the front-running fan who always roots for the team with the best record. If you just like watching the sport regardless of the teams playing, NBA League Pass might be a worthwhile investment.
The free preview weekends take place February 20th-21st and March 5th-6th. To launch NBA League Pass from the go90 app, you first have to update the app, and open it. Tap "Browse" at the bottom and Search for "NBA League Pass." Once it comes up, tap on it and then select the game you want to watch. You can decide to watch the feed using the road team's announcers, or you can go with the play-by-play from the home team.
Just a few more things. If you purchase the $50 NBA League Pass from go90, you must watch the games from the app. If you are a Verizon post-paid customer, any use of go90 does not count against your monthly data cap. Now go ahead and install the go90 app on your iOS or Android phone and take advantage of those five free NBA games that are yours for the asking. It's a slam dunk!
Install go90 on your phone (
iOS
|
Android
).
source:
go90
via
Phandroid